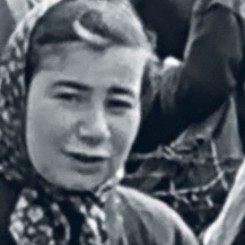 Hela Sztajer
Helen Fox was born Hela Sztajer in 1918 in the small town of Blaszki, Poland. She was the youngest child in a large Hasidic family and as such was happily spoiled. The family moved to the large city of Lodz, Poland, where they earned a living manufacturing sweaters. Helen's mother passed away due to influenza when Helen was 12 years old.
In 1939 the Germans invaded Poland, the Jewish neighborhood the family lived in became a closed ghetto, and the Jews living there became prisoners and forced laborers. In the ghetto she met and fell in love with her future husband, Nathan Fox (Nusen Zev Fuks). Nathan's family were affluent manufacturers and retailers of shoes until the Nazis confiscated all their property. Helen became close to the Fox family in the ghetto. Helen and Nathan's mother, Frymet Fuks, were deported by the Nazis to Ravensbruck concentration camp. At first they lived in the same barrack, but Helen was reluctantly separated from Frymet when she was assigned to be a slave in the Siemens electronics factory. Frymet Fuks died of the effects of starvation, exhaustion from heavy labor, and being beaten by her captors after she dropped a heavy barrel. Helen learned that Frymet was dying and tried to sneak back to the barrack to see her one last time. She was caught by a guard and, as an excuse, told him that she was trying to get medical attention for a toothache. The guard took her to an infirmary and a tooth was ripped from her mouth without anesthesia. This terrible event and Frymet's death occurred a few weeks before the Swedish Red Cross evacuated Helen to Malmo, Sweden.
Nathan Fox and two of his brothers managed to stay together throughout the war. They survived being prisoners in Sachsenhausen concentration camp and in the last days of the war survived a death march. Nathan was also evacuated by the Red Cross to Sweden in 1945 and shortly after learned that Helen was in Sweden. He found her, and they got married in 1946 in a ceremony conducted by a Stockholm rabbi. They lived happily in Uppsala and worked in a textile factory. In 1950 their first son was born and they decided to start a new life in the United States. Nathan and his two brothers started a garment manufacturing business in New York City. Helen and Nathan had a second son in 1954. They lived peacefully surrounded by good friends and family until Nathan died of natural causes in 1982. Afterwards Helen lived in New York City and later in Sunny Isles Beach, Florida. She passed away at the age of 95 in 2014. She was survived by two sons, four grandchildren and two daughters-in-law. She is buried in a Jewish cemetery in New Jersey beside her husband Nathan in the same plot as Nathan's two brothers and their wives.
Helen rarely spoke about the grim details of her wartime experience. She was happy to recall her beloved family in prewar Poland and the kindness of the Swedish people during the six years that she lived there.
Text: Mark Fox, Helen's son
Tags: separation
If you can help us with further information about Hela Sztajer we will be very happy to hear from you. Please write an email to our researcher Sebastian.