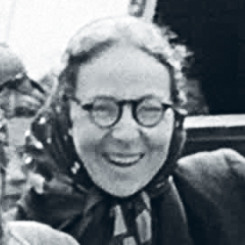 Dedicated her life to helping others
Maria Zurowska Kurowska
Maria Zurowska Kurowska was born in 1916 in Podluze, South Eastern Poland, a region today belonging to Ukraine. Her studies at Warsaw School of Economics were interrupted on September 1, 1939. She was mobilized and war placed at the Institute of Technology in Lviv, as she had previously gone through an education with the Polish Red Cross. When the front line of the war moved closer, her parents decided to flee to Warsaw. Maria then started studying at the Rockefeller nursing school, being one of the higher educations for Polish citizens which the occupational rulers accepted.
Towards the end of 1942 Maria took her final exam at the nursing school. On December 30, 1942 Gestapo came to the family's home in Warzaw and arrested her father Roman Zurowski and everyone present in the apartment. Besides Roman Zurowski, his wife Karolina Zurowska. Maria, her sisters Anna and Klementyna were in the home. Gestapo had found out that Marias father was active in the Polish resistance.
The whole family was taken to the Pawiak prison, where Roman Zurowski was tortured to death. Together with her mother and her sisters, Maria was moved to the concentration camp Majdanek on January 17, 1943. The same year her sister Anna died of typhus in the camp. Maria, her mother Karolina and her sister Klementyna were moved to the concentration camp Ravensbrück on April 20, 1944.
In Ravensbrück Maria worked in the kitchen barracks and on rutabagas she alone made soup in 1000-liter pots to the fellow prisoners. During the last months in the camp she was very ill. On April 25, 1945 she was included in the list with ill prisoners, who were allowed to go with the White Buses to Sweden. The buses didn't have permission to drive in the camp area so with support from three friends Maria was lead to the camp gates. From there she dragged herself to the waiting buses, taking her via Flensburg and Copenhagen to Malmö, where she arrived on April 28, 1945.
During her studies, Maria was engaged in the Polish resistance and through these contacts, she could smuggle medicine into the camp. Among others, the medicine was used in the fight against typhus. With the risk of being caught and sentenced to death, she managed on several occasions to save the life of fellow prisoners with smuggled medicine. She also kept Jewish women in hiding by giving them Polish identity, when she was a warden at the hospital barracks in Majdanek. A while after the war, one of the women sent a letter thanking Maria. The woman by then living in Israel.
Bespoken was Marias ability to take care of fellow prisoners with a good heart and make sure that good ethics were maintained. Human decency and dignity should not be ignored, but protected and kept a priority, was her term in a system, which was all about humiliation. Maria initiated a variety of activities, which kept the spirit high in her fellow prisoners.
Maria's sister Klementyna and her mother Karolina returned to Poland right after the war. Karolina Zurowska settled in Sweden in 1965.
In February 1946 Maria married Bozyslaw Kurowski in Malmö. He was also a prisoner of war from the concentration camps Stutthof, Sachsenhausen, Mauthausen-Gusen from 1940 up until 1945. Their honeymoon was a trip with the tram line 4, through Malmö. Maria and Bozyslaw had four children: Anna, Roman, Zofia and Jadwiga.
Early on Maria got a job in Sweden. During July and August 1945 she worked for Red Cross at the emergency hospital at Södervärnskolan in Malmö and in Foteviken as pediatric nurse at Solhem, a place for orphans from the concentration camps. In Fall 1945 and Spring 1946 she worked in Täby and Sigtuna as an educational nurse at medical courses for young women who came to Sweden as refugees. The courses were organized by the Red Cross. From 1948 she worked at the hospital in Lund for many years.
Maria's years in Sweden were characterized by a tireless effort for helping other people. "No human can alone bear the burdens of life, but we have to be there for each other", was Marias' motto. Both during and after the war. Maria died in Lund in 1999 and is buried at Norra Kyrkogården (Northern Graveyard) in Lund, in a part of the cemetery where there is a memorial and many graves of the refugees from WWII.
If you can help us with further information about Maria Zurowska Kurowska we will be very happy to hear from you. Please write an email to our researcher Sebastian.