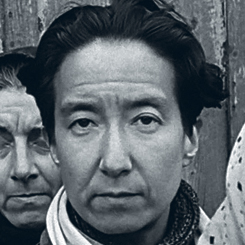 Daughter of a Chinese Ambassador, educated lawyer and honorary colonel in the 1920s Chinese army. What happened to her after 1945?
Nadine Hwang
Nadine Hwang (1902-1972) was born in Madrid, Spain. She was the daughter of a Chinese diplomate father and a Belgian mother. At the time of her birth, her father was the Chinese ambassador in Spain. After the family moved back to China in 1913, Nadine started to study French in a French Catholic school in Beijing and later trained to be a lawyer. She was a part of the upper-class in China and worked in a period as a secretary for prime minister Pan Fu. In the late 20's she was appointed as an honorary colonel in the Chinese army. Very few women in China could live the life Nadine lived in those times. She was able to travel internationally, wore fashion clothes, drove cars and exercised all sorts of sports.
In 1933 Nadine moved to Paris and started to work for the author and lesbian pioneer Natalie Clifford Barney. For decades Barney hosted a famous literary salon at Rue Jacob in Paris, where intellectuals and artists like Romaine Brooks, Dolly Wilde, T S Eliot, F Scott Fitzgerald and Jean Cocteau were regular visitors. Nadine became the personal chauffeur and secretary of Nathalie Clifford Barney, as well as her lover for a period. During the war Nadine partly lived in Saint-Jean-de-Luz, close to the Spanish border, where she most likely was involved in resistance activities.
Nadine was deported to the concentration camp Ravensbrück in May 1944. Later that year, on Christmas Eve, she met Nelly Mousset-Vos for the first time. In the camp Nadine also became friends with Rachel Krausz and her 9-year-old daughter Irene. Nadine helped them to get on the White Buses, a Swedish Red Cross mission, which rescued prisoners from the camps during the last weeks of the war. Today, Irene Krausz-Fainman lives in Johannesburg, South Africa, and is seen in the film Nelly & Nadine.
Nadine arrived in Malmö, Sweden, on April 28, 1945, together with almost 2000 survivors from the camps, rescued by the Swedish Red Cross mission. Nadine is visible in the archive footage shot by a Swedish news reel cinematographer the same day. For a period, Nadine stayed at the Malmö Museum, the old castle Malmöhus, which was used as quarantine and refugee camp at the time. In July, 1945, she returned to Paris. By 1946 she had been reunited with Nelly.
In 1950 she moved to Caracas, Venezuela, together with Nelly and Nelly's daughter Claude. Nadine and Nelly lived for 20 years in Venezuela. When Nadine fell ill in 1969 they returned to Brussels. Nadine passed away on February 16, 1972, in Brussels, where she is buried.
Nadine Hwang's face is one of the most recognisable in the historic archive footage shot on April 28, 1945, in Malmö harbour. She is present in Magnus Gertten's documentaries 'Every Face Has a Name' and 'Harbour of Hope'. Nadine Hwang is one of two main characters in Magnus Gertten's 2022 documentary "Nelly & Nadine", which depicts the love affair between Nadine and Nelly Mousset-Vos.
Tags: disguise, escape, sexuality
If you can help us with further information about Nadine Hwang we will be very happy to hear from you. Please write an email to our researcher Sebastian.